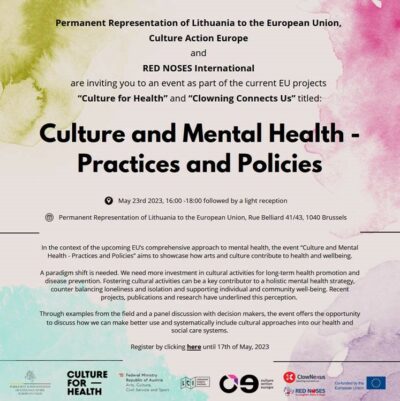 The Permanent Representation of Lithuania to the European Union, Culture Action Europe and RED NOSES International are inviting to an event as part of the current EU projects "Culture for Health" and "Clowning Connects Us" titled: 
Culture and Mental Health -  Practices and Policies
Date: May 23 2023, 16:00 -18:00 followed by a light reception until 20:00
Location: Permanent Representation of Lithuania to the European Union, Rue Belliard 41/43, 1040 Bruxelles
Concept 
In the context of the upcoming EU's comprehensive approach to mental health, the event "Culture and Mental Health - Practices and Policies" aims to showcase how arts and culture contribute to health and wellbeing, discussing how these approaches can become more integrated in our health and social care system.  
A significant amount of robust, clinical evidence has now repeatedly shown that the arts have a positive impact on complex health challenges, such as mental health. Recent research reviews by the WHO 2019 and the CultureForHealth report have synthesised existing evidence on the positive effect of arts and cultural activities on health and well-being. Further, CultureForHealth outlined a series of policy recommendations aiming to bring the cooperation between health, social and cultural level to a policy level.
Change is needed
The impact to shift this paradigm is needed. We have to invest in cultural activities for long-term health promotion and disease prevention. Fostering cultural activities can be a key contributor to a holistic mental health strategy, counterbalancing loneliness and isolation and supporting individual and community well-being. 
Recent projects, publications and research have underlined this perception.
Through examples from the field and a panel discussion with decision-makers, the event offers the opportunity to discuss how we can make better use of and systematically include cultural approaches in our health and social care systems.
What are the positive impacts of art-based interventions? The CultureForHealth Report summarises the categories of health and well-being outcomes associated with arts and cultural participation.
CultureForHealth Report
European Mental Health Week
The European Mental Health Week is a pan-European initiative that aims to raise awareness about the importance of mental health in our everyday lives. Set up and run by Europe's largest independent mental health NGO Mental Health Europe (MHE).
This week-long online action is a chance for everyone to speak up about all aspects of mental health, share personal stories of how to cope with difficulties in times of crisis and in general, and highlight the need for action.