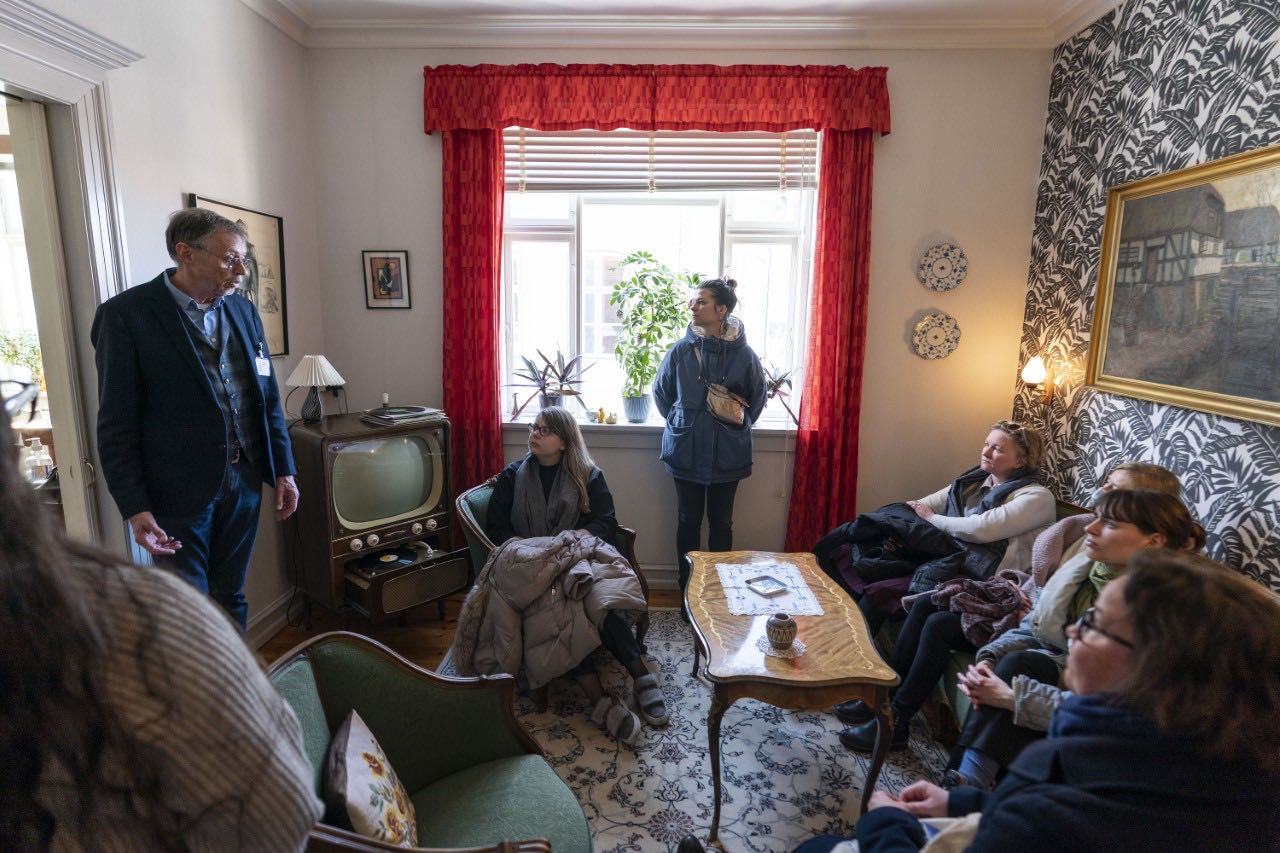 Pilot 2: Arts and Culture in Nursing Homes (Central Denmark Region, Denmark)
Arts and culture actors (primarily museums) through artistic practices engage with dementia patients and elderly people with disabilities living in care centers. According to the call, a film will be producedas a fixed element in the dissemination of the individual actors' core area. The film must be produced in collaboration with each individual actor and adapted to the target group's cognitive challenges in terms of image quality, tempo in the film and pictorial means.
Read also the articles:
Traveling Back In Time With Dementia
Challenge
In Denmark 90.000 people suffer from Dementia. Approximately 80 % of people living in nursing homes have some kind of cognitive disability mostly related to some sort of Dementia and Nursing homes are struggling to provide care beyond the pure basics.
In 2017 the Department of Health published a national plan to improve the quality of life for people living with dementia. In this plan one of the main goals is to reduce the use of antipsychotic drugs through improved care.
It is still a struggle to reach this goal, and there is a need to find new ways to reach this goal and through this improve the quality of life for people living in nursing homes and who suffer from dementia.
Action
Studies show that arts and culture improve both quality of health and quality of life.
Nursing Home residents cannot take care of everyday life without help and therefore depend on the staff regardless of wishes and needs.
Nursing Home staff is not trained to include nor provide arts and culture in the daily care program.
This initiative wants to find a new way to include the already recognized knowledge about how art and culture can contribute positively to the quality of life for people, and this project focuses on people living in Nursing Homes.
Method
The collaboration between dementia expertise and 10 different arts and culture offers in Region Midt will investigate if the combination of knowledge and implementation of art and culture for people with Dementia can contribute to a higher quality of life and in the long run reduce the consumption of antipsychotic drugs throughout Europe.
Ten different art and culture institutions in Region Midt will convey their core performance live in the nursing home whilst presenting a short film showing selected specific art from every individual institution.
The private company Mapia / Demensliv provides and ensures that the staff of the art and culture institutions receive sufficient knowledge and tools to be able to convey their knowledge and passion for art and culture to people with dementia in ten different nursing homes.
This method will be developed and improved along the way, because of simultaneously observing and monitoring the impact of the art and culture for the well-being of the nursing homes residents.
Output
A concrete method for art and culture institutions to convey their art and culture in a way that is designed for people who suffer from dementia and living in nursing homes.
Impact
Art and Culture can be a sustainable complement to medicine - in this context to antipsychotic drugs.
The aim is to investigate if cultural and creative concepts in Nursing Homes can strengthen the well-being and quality of life for people who suffer from Dementia.
As an extra focus we will investigate if they can strengthen staff job satisfaction and as well as be a source of renewed quality of life for relatives.