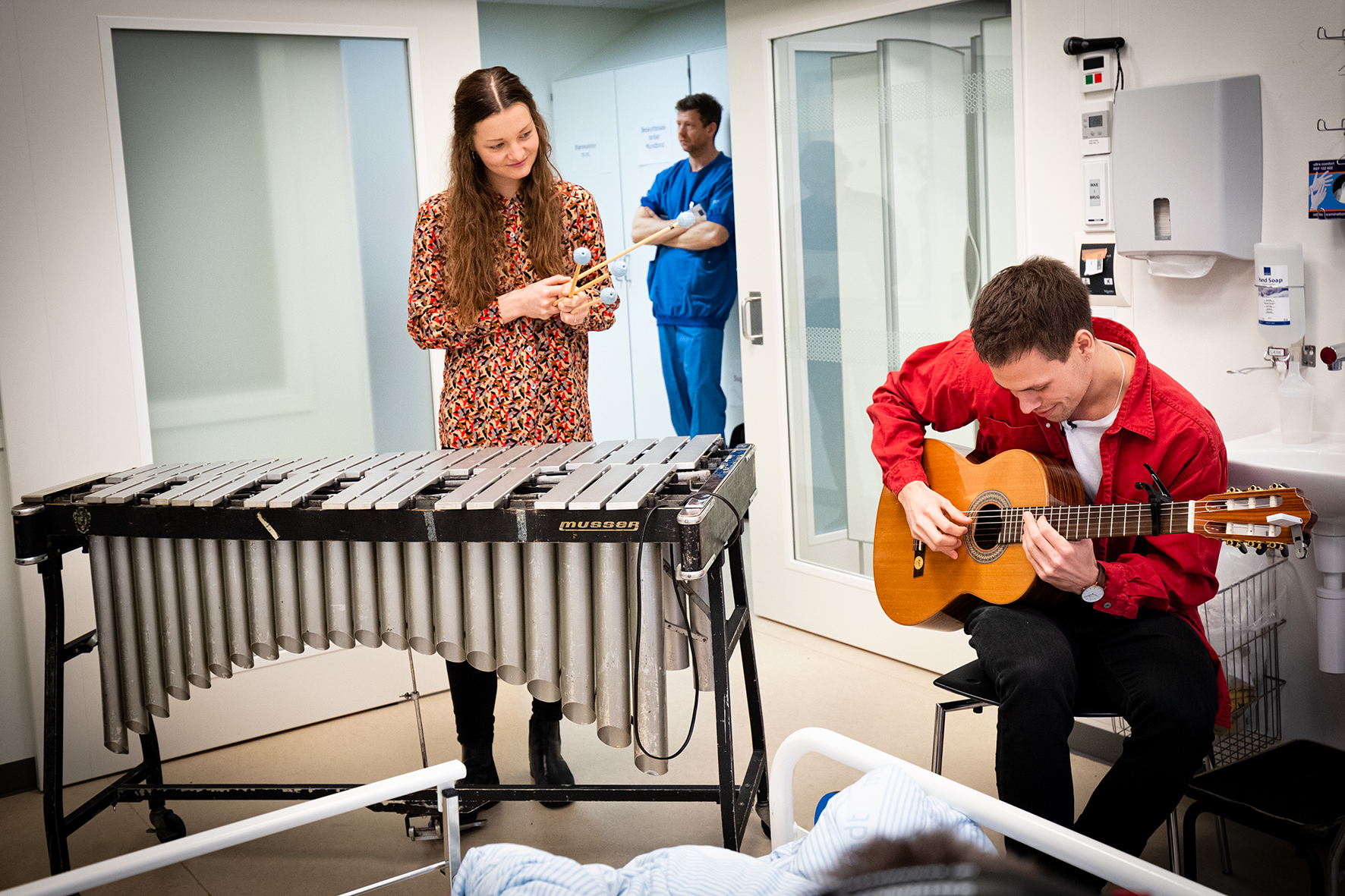 Pilot 1. Culture in Hospitals (Central Denmark Region, Denmark)
The first two pilot projects will take place in the Central Denmark Region. Central Denmark Region has for the last 6 years had a strategic innovation and research effort to promote arts and health in the 19 municipalities and 6 hospitals of the region. This includes projects about choirs for people with lung conditions, dance classes for people with Parkinsons, arts workshops for people suffering from concussions, shared reading for people suffering from stress, anxiety and depression and much more.
Central Denmark Region will, as part of CultureForHealth, create new research and knowledge from two ongoing projects: "Arts and Culture in Nursing Homes" by the Danish open air museum The Old Town, in Aarhus and, the regional project "Live Music in Care Homes and Hospitals".
Challenge
Hospitals in Central Denmark Region are experiencing an increase in social inequality in health and rising expenditure on medicines that prove a big challenge on the sustainability of the health care system. At the same time, citizens and staff demand a more holistic healthcare system that takes into account the individual's life situation.
A considerable group of patients who receive long-lasting treatment put their lives on hold due to their illness and experience side-effects due to the medicine and/or some have concerns about the future. This often shows on the individual's level of anxiety, depression or fatigue which in the end have a big influence on their overall level of well-being and life satisfaction. The focus on well-being and psychological factors has in general been highly downgraded in the healthcare sector despite the fact that high levels of well-being correlate with a variety of physiological responses, e.g., lower stress hormone or enhanced immune function.
It is evident that the healthcare sector needs to have a more holistic view, including both psychological and physiological components in the process to deliver the best possible treatment. Increasingly we see that several scientists and healthcare personnel look to the tools that the arts and culture can offer to solve the challenges they face. In 2020 WHO issued a big scoping review paper which gathers more than 3000 different studies looking at the positive health effect of arts and culture. This underlines the necessity of developing more sustainable culture interventions designed to fit the hospital frame.
Action
As part of an ongoing strategic effort for culture and health, the Central Jutland Region will test various concepts that combine culture and health promoting factors which they already have done in several pilot projects. This includes implementing specific art interventions in the hospitals such as live-music or theatre. For instance, they have implemented live music in different wards: in intensive care, dialysis clinics, cancer wards, maternity wards and pediatric wards. These projects have been carried in collaboration with students and researchers from the Royal Academy of Music in Aarhus, music therapists and professional artists from local theatres, libraries and music institutions.
Another more implicit way of using culture in hospitals is by working with aesthetics and design of the hospital setting. This could be by focusing both on the day-to-day functionality for the health personnel and at the same time making a setting that is more calming and soothing for the patients involving all the senses. Until now CDR has supported projects with focus on atmosphere at e.g., maternity wards where research shows that a comfortable setting can decrease stress hormones which in the end lowers the probability for complications during birth.
For this project we will include existing pilot projects such as "Live music in Intensive Wards", where our focus is to investigate the long term anti-trauma effects of a live music experience for citizens admitted to the intensive wards, and the project "Live music in Health" that is a cooperation between The Royal Academy of Music in Aarhus, nursing homes in Aarhus and hospitals in CDR with the aim of creating a sustainable organization to supply live music to health institutions in Denmark. We will also collect knowledge and experience from other projects in hospitals as these are created regularly as part of the strategic effort.
Output
An important output of this project will be the development of concrete sustainable concepts for collaborations between cultural actors and the health service. This is crucial in aspects of making long lasting interventions that are a permanent part of the healthcare strategies. In this process it is clear that concerns such as sustainable business models, accessibility, quality assurance, involvement of healthcare professionals and institutional anchoring should be considered. By ensuring this we will get closer to a more holistic approach where well-being and psychological aspects are considered when deciding the course of treatment in the healthcare sector.
In connection with the dissemination task, CDR will also take the initiative to create a platform for knowledge sharing between hospitals in Europe with a focus on culture and health.
Impact
Cultural activities and interventions can be a sustainable complement to biochemical health solutions. The aim is to investigate how cultural and creative concepts in a hospital environment can strengthen citizens' mental and physical well-being and health, be an effective supplement to biomedical solutions, how they can strengthen staff job satisfaction and internal and external relations, as well as be a source of renewed quality of life and a new source of coping - for both citizen and relatives.
CDR furthermore has a series of other projects it can showcase during the roundtable and study visits such as Culture on Prescription, Shared Reading for mentally vulnerable. CDR will furthermore organise back to back to the study visit an event of the Culture and health networks bringing together public employees working in arts/culture, health, social and employment.