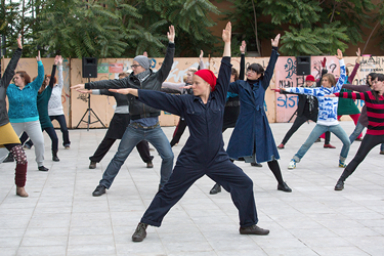 Pilot 4: Inclusion of Art in businesses and companies (Društvo Asociacija, Slovenia)
The programme aims to help alleviate stress, anxiety and depression symptoms, physical pain, conflict resolution, reduce absentism, need for medicalisation, increase motivation, well-being, mental health, confidence, understanding of self and others, as well as develop a capacity for self-reflection. Three programmes are being organised with the programme agreed upon with the HR department of each participating company.The companies have been selected according to their expressed interest and company type.
The pilot involves complex preparation, including a detailed design of the intervention and evaluation protocol; a process of consultation on the project design with public health experts, artists, psychologists, as well as HR department heads and employees who have previously attended activities in the Cultural Enterprise Certificate programmes; and conversations and cooperation meetings with a number of local stakeholders such as representatives of general physicians, private and public health institutions, manager associations, labor unions, cultural organisations etc. The intervention will be followed by impact assessment.
One of the focuses of Društvo Asociacija is connecting art and business. After executing a couple of projects in this theme, in late 2019 we started a project Certifikat Kulturno podjetje (Eng. Certificate Cultural company) which will finish in January 2022. Within that project we are trying to develop a certificate system (similar to some other certificates, for example Fairtrade certificate) where we stimulate the inclusion of art into businesses. The project is looking into different ways culture can be included into companies and with that benefit both parties, i.e., the arts and business sector. We have mapped and are working on different possible models of including art into businesses and one part of it is also the well-being of the employees (there are lots of other aspects that culture can improve, i.e., the reputation/image of the company, satisfaction of customers, etc.).
In the context of this application we would like to gather further information on how art can contribute to the well-being of the employees and look into new and innovative practices in the implementation of such cooperation. As outlined in the Council conclusions of 2015/C 172/04, cooperation of arts and business shall be promoted as cultural and creative crossovers stimulate innovation, economic sustainability and social inclusion and thus the project would collect further evidence and insights to this. The project aim is also to further strengthen the sustainability of an independent certificate system for including arts into businesses. We presume that such small scale projects and research will give further evidence that such connections are beneficial to companies, and with that strengthen both the business and culture sector.
Challenge
What are the most suitable ways of including art in companies to benefit the well-being of employees. Despite the fact that some evidence exists on the impact of art and culture in the workplace, there is a lot of work to be done to balance between the work environment and the quality of life through culture companies are still not taking up. In Slovenia, there is no sufficient data on how companies view such cooperation and in general there are no systematic processes at the companies to increase well-being at the workplace through culture and the arts.
Action
Aiming to address the challenge described above, we will work with three companies where with each we will test three models of incorporating art into business that have potential to increase the well-being of the employees. From this cooperation we will gather data that will answer the following questions: 1.) Do companies find such inclusion of art as something beneficial; 2.) Do these ways of including art into companies actually increase the well-being of employees? 3) Which intervention increases the well-being of the employees the most?
Three models of including art into businesses that will be tested and evaluated:
Regarding general well-being through a humanised good working environment, we will include art in the workplace, where we will if possible test some more innovative artistic practices (for example ASTS -Art, Science, Technology, Society hybrid practices). We will provide each company with one larger or a few smaller art installations and interventions (visual arts, performances, sound art, etc.) pieces.
Regarding physical well-being, we will test how a modern dance class for the employees benefits them (similar to sports activities). We will provide four dance workshops in each company.
We know based on research that art contributes to creativity, therefore we will test if addressing creativity in the workplace increases well-being of the employees (three collaborative residencies that bring together artists and employees creativity workshops will be given to employees:  visual arts, creative writing, live arts/ performance. The named interventions are tentative however, as details will need to be agreed with each company.
The interventions will be measured by a questionnaire to the participants before the intervention (T0), right after the intervention (T1) and approximately 1-3 months after, (T3).
Output
On the basis of proposed experimental models of including art into businesses, we will collect evidence on the potential of art to contribute to the well-being of employees. We will also create guidelines for further studies and guidelines for decision makers on how to broaden the scope of such cooperation and further develop the field.
Impact
Better understanding the potential of connecting art and business through a specific correlation to well-being in the workplace. Further increasing the potential of such partnerships in Slovenian and further development of the Certificate Cultural company.