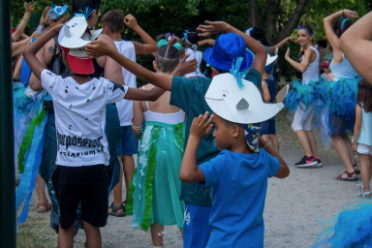 Pilot project 5. Intergenerational social well-being with participatory arts and culture (Social well-being laboratories by Associazione Oltre in Bologna, Italy)
The three workshops were carried out in April and May, 2022, the two months prior to the parade during which all the preparatory workshops took place. More than 20 workshops in total were carried out in preparation for the parade.
The different target audiences:
1) an experimental music lab for children aimed at developing instruments and sounding objects to use in the parade that could reproduce the call of the donkey, led by musician and choir director Serena Pecoraro, inside the premises of Associazione Del Guasto.
2) a dance and music samba workshop aimed at children, youngsters and their parents, led by Sambaradan, a historical samba batucada group which was born in the early years of the parade.
3) a music craft workshop led by Totem Lab inside the Romagnoli schools in the Pilastro neighbourhood, aimed at building cajon instruments to use in the parade. The three workshops addressed different communities in the population, including both central and peripheral areas of the city.
Aslo read the article:
Par Tot Parata - Parades for Children's Well-being
Challenge
Children (especially among disadvantaged communities (migration background, physical disabilities, low income)) are more isolated and have fewer opportunities to socialise between each other and with adults. The COVID-19 pandemic has strengthened this even further often leading to mental health problems.
Project question
How can cultural and artistic activities support children's and adolescents' social well-being in collaboration with other sectors for addressing challenges arising from increasing isolation and segregation between different segments of the society?
Proposed Action
Trans Europe Halles (TEH) member Associazione Oltre (AO) has developed the whale project in collaboration with the educational institutions (Associazione Il Giardino del Guasto) in Bologna to support the social well-being of children in disadvantaged communities. Within the context of this project, AO organises more than 40 "laboratories" in various public spaces (parks, arboretum, piazzas etc.) outside the city centre to bring kids and adults together around the creative activities. Participants of laboratories co-design and co-produce and co-train costumes and props for the whale parade. Within the context of proposed action, the whale project will experiment with and innovate existing laboratories models with an aim of transforming 4 laboratories to "social-wellbeing laboratories" (SWL). The objectives of the project will be a) identifying cross-sectoral local stakeholders (health, education and public admin) relevant to SWLs, b) forming creative partnership with cross-sectoral local stakeholders c) identifying target groups in the local community for improving their social-wellbeing, d) Co-defining social well-being indicators and key outcomes together with local stakeholders, e) Co-designing the SWLs' programme with local stakeholders,  f) Developing a participatory social well-being model driven by culture, arts and crafts g) Sharing learnings from SWL development as practice-driven knowledge for culture and well-being.
The intervention of the SWLs will be measured by a questionnaire to the participants before the intervention (T0), right after the intervention (T1) and approximately 1-3 months after, (T3).
Outputs
4 workshops with stakeholders
4 workshops with identified the target groups (SWL)
10 stakeholders (organisations) identified1
100 participants in the 4 SWLs
1 stakeholder map1
1 prognosis report (after the pilot workshop)1
1 final report with social well-being matrix prototype.
Impact
Enhancing social well-being of the SWLs participants, Increasing the feeling of community among the SWLs participants, Forming cross-sectoral creative partnerships for social well being, Innovating artistic and cultural production models for social well-being, (Indicators to be defined locally together with local stakeholders).