More than one in six people across EU countries had a mental health problem in 2016, well before the pandemic. "Mental health problems cover a wide range of illnesses, including disorders such as mild or moderate anxiety and depression, drug and alcohol use disorders, and severe disorders such as severe depression, bipolar disorders, and schizophrenia" (OECD/EU 2018). Mental health problems can be caused or aggravated by behavioural and environmental factors.
Worldwide and in the EU, there are numerous cultural and creative projects that address at different levels the mental health and wellbeing of young people, in terms of promotion, prevention, treatment, and management.
The third topic of Voices of Culture 2021 – 2023 will generate project ideas and policy recommendations for the cultural and creative sectors and decision-makers on the topic of the role of the cultural and creative sectors in improving mental health of young people.
Succesful applicants will be invited to a Brainstorming Meeting at Goethe-Institut Brussels on 04.05.2022 - 05.10.2022 and to a Dialogue Meeting at Goethe-Institut Brussels on 08.12.2022 with the European Commission to share their input on three suggested areas of discussion:
- Evidence on the contribution of the cultural and creative sectors to improving the mental health and well-being of young people, at national and international level.
- Synergies with other policy fields (health, education, social welfare, ect.) to maximize results.
- Examples of interventions where there is robust evidence of successful outcomes, particularly for disadvantaged young people. Conditions for success of such interventions.
Details
Application Deadline: 13.07.2022
Announcement of Results: 20.07.2022
For detailed information and how to apply, please vist Voices of Culture's website *HERE*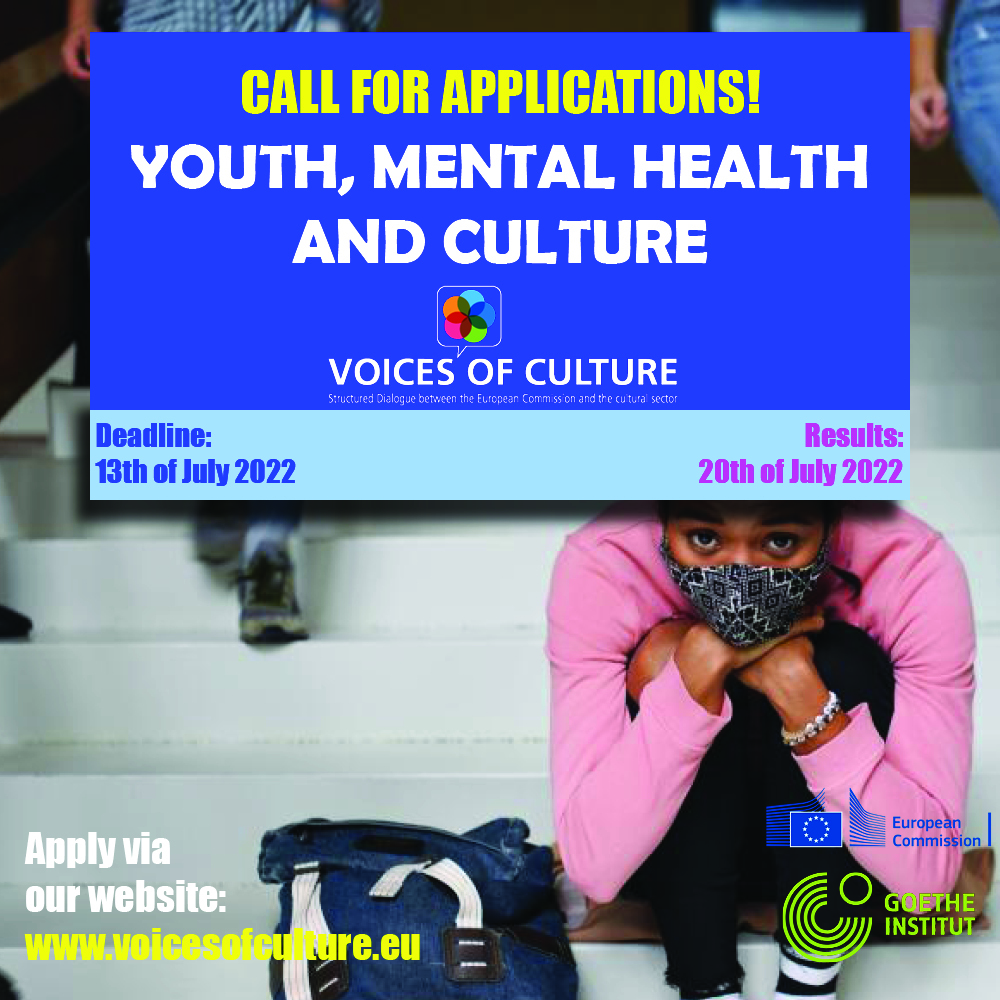 Photo: Voices of Culture