The trip to Cluj-Napoca is the third "study-trip" for the partners, with the first two having gone to Aarhus in Denmark and Bologna in Italy. Included are, among other things, representatives from the WHO and the EU as well as politicians, researchers, health professionals, artists, business developers, innovation specialists and many more from 12 European countries.
The aim of the trip is, among other things, to put the finishing touches on a major new scoping review with research and project examples from all over Europe and a number of political recommendations to the EU and to the EU's member states, which follow up on the WHO's scoping review on the area, which was published in 2019.
Workshop topics include: "The need for an increased focus on health promotion and prevention", "A growing mental health crisis", "The need to support the broader health and well-being of young people", "Ongoing changes to labour markets, patterns of work and the economy", "An ageing population", "The association between ill health and patterns of inequality", "Promoting active citizenship" and "Difficulties faced by forcibly displaced people in the EU".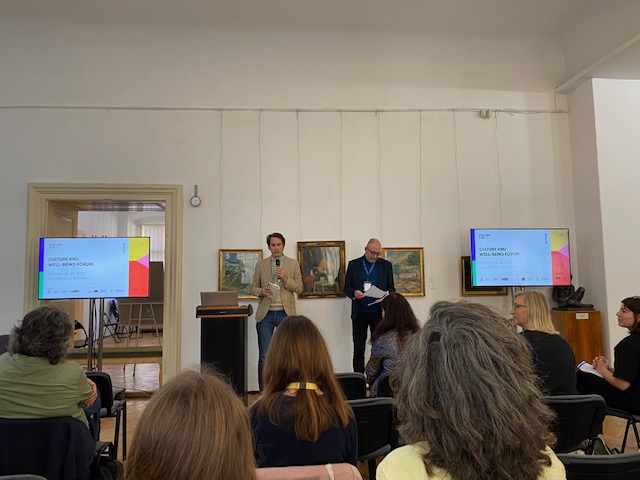 Nils Fietje from WHO Europe said in the conference's opening speech: "The culture for health field as I experience it is characterized by a strong focus on sustainability and dynamism. In the coming time, we must ensure that the momentum we are experiencing right now will continue in the coming years".
CultureForHealth is a project co-funded by the European Commission with partners all over Europe, consisting of Culture Action Europe, Trans Europe Halles, Central Denmark Region, The Northern Dimension Partnership on Culture, Centrul Cultural Clujean, and Društvo Asociacija.
The project will last 18 months- ending with a conference in Greece, which will take place in June 2023.
P.S. If you could not join us this week, join us in the next step! Save the 24 November 2022 and register for the online conference: The CultureForHealth Report Launch