Webinar & Compendium Launch
Webinar on the Culture for Health and Well-being Compendium - A Guide for Practitioners
Webinar & Compendium Launch, 22 June 2023, 10:00 - 11:30 CEST
CultureForHealth invites practitioners from the cultural, social and health sectors to actively participate in our upcoming online event dedicated to the launch of the Compendium of sustainable culture-based solutions for well-being and health.
The Compendium is a very practical guide for those interested to design, improve or scale up effective cultural interventions aimed at improving health and well-being.
Rooted in the experience and knowledge acquired in the CultureForHealth project, the compendium presents models of cross-sector collaboration for setting in motion such projects in cultural institutions or health/care centers, focuses on the skills and competences required from the professionals engaged in delivering interventions, and offers guidance to implement sustainable culture-based solutions for well-being and health.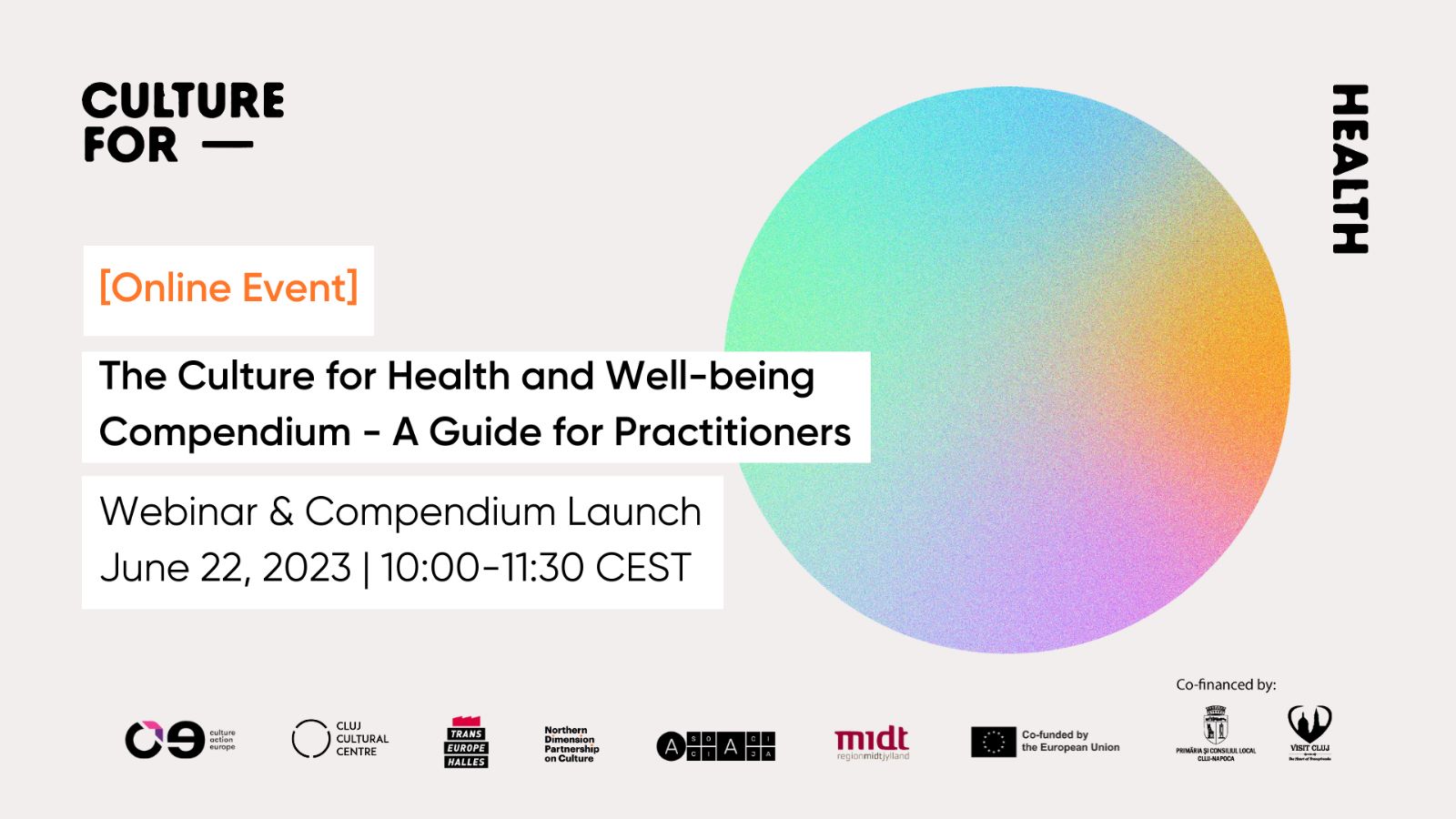 The webinar includes insights from experienced professionals and researchers in the area of arts and health, inspiring case studies and provides a participatory framework for exchange of good practice and discussions, enabling learning and offering practical guidelines.
Speakers include:
- Katey Warran, World Health Organization Collaborating Centre for Arts & Health, University College London
- Mafalda Dâmaso, Department of Arts and Culture Studies, Erasmus School of History, Culture and Communication, Erasmus University Rotterdam
- Kornelia Kiss, Culture Action Europe
Moderator: Rarița Zbranca, Cluj Cultural Centre
Link for the Webinar & Compendium Launch
* Please read and acknowledge our GDPR Policy, here.
* Please read and acknowledge the photo and video disclaimer, here.
For any inquiries, please contact: proiecte@cccluj.ro
The Culture for Health and Well-being Compendium
If you didn't have the chance to participate in the online webinar, you can watch the recording of the webinar here.
Through the CultureForHealth project, we have explored the profound impact of cultural interventions at both the individual and collective level, in a combined effort to raise awareness on local and regional actions in Europe around this topic.
Through a series of roundtables and study visits to Denmark, Italy and Romania, webinars, workshops, and conferences, CultureforHealth has been facilitating cross-sectorial and trans-European cooperation aiming at both sharing, collecting and creating knowledge.
The launch of the CultureForHealth report was an important step towards compiling policy guidelines on how to enhance well-being through culture.
Also, within the project, six pilot projects were implemented in Denmark, Italy, Romania, Slovakia and Slovenia aiming at "management and treatment" of illnesses as well as "prevention and promotion" for a variety of life stages and age groups.
Through the CultureForHealth mapping, relevant examples of EU, national, regional and local programmes, initiatives and projects on culture, well-being and health were collected in an online directory.
CultureForHealth project responds to the objectives of the Preparatory Action – Bottom-Up Policy Development for Culture & Well-being in the EU. The project has the ambition to trigger a true policy change in the EU affecting both regional and local levels - bringing closer together the health, cultural and social policies.
CultureForHealth is a project co-funded by the European Commission with partners all over Europe, consisting of Culture Action Europe, Trans Europe Halles, Central Denmark Region, The Northern Dimension Partnership on Culture, Centrul Cultural Clujean, and Društvo Asociacija.
This event is co-financed by the European Commission and the Cluj-Napoca Municipality.